Välj servomotorer eller stegmotor för just din applikation
Med HLMT kan vi realisera många olika roterande applikationer så som rundbord, dispensers m.m. Utöver stegmotor eller servomotor kan man även välja form av återkoppling i form av absulotvärdesgivare eller ej.
Komplett hollow rotary actuator
Servo- eller stegmotor med integrerad kraftdel
Alla tillgängliga Ethernet-protokoll (EtherCAT, PROFINET, SERCOS, POWERLINK, Modbus m.fl) för enkel integration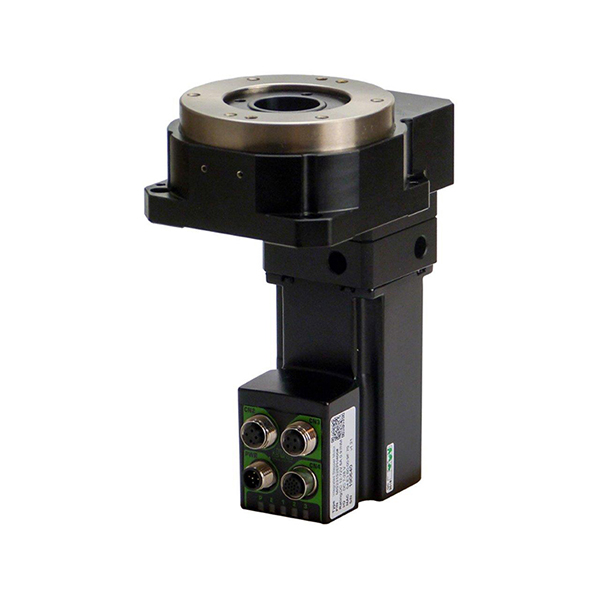 Motor Type, recommended -zzz

Nominal output torque (Nm)

Gear reducer inertia (kgcm²)

Input speed max. Ball B (rpm)

Input speed max. Cross B (rpm)

Gear ratio – standard 1-stage

Gear ratio – optional 2-stage

Torsional Backlash, 1 … 2 stage (arcmin)

Axial Load Max. – Ball B (N)

Axial Load Max. – Crossed Roller bearings (N)

Permissible moment load Ball B.(Nm)

Permissible moment load B Crossed R. B.(Nm)

Runout of output table surface (mm)

Parallelism of Platform (mm)

Weight w/o Motor, 1…2 stage (kg)
Sömlöst integrerad med fältbuss eller standalone
Oavsett MAC- och MIS-motor så finns möjligheten att programmera egen PLC-kod i motorns inbyggda PLC. Om rörelsen ska vara en del av en större maskin så kan man utnyttja någon av de Ethernet-baserade fältbussarna för att kommunicera mellan sitt PLC och sin hollow rotary actuator från SIGBI.
EtherCAT
PROFINET
SERCOS
POWERLINK
Modbus